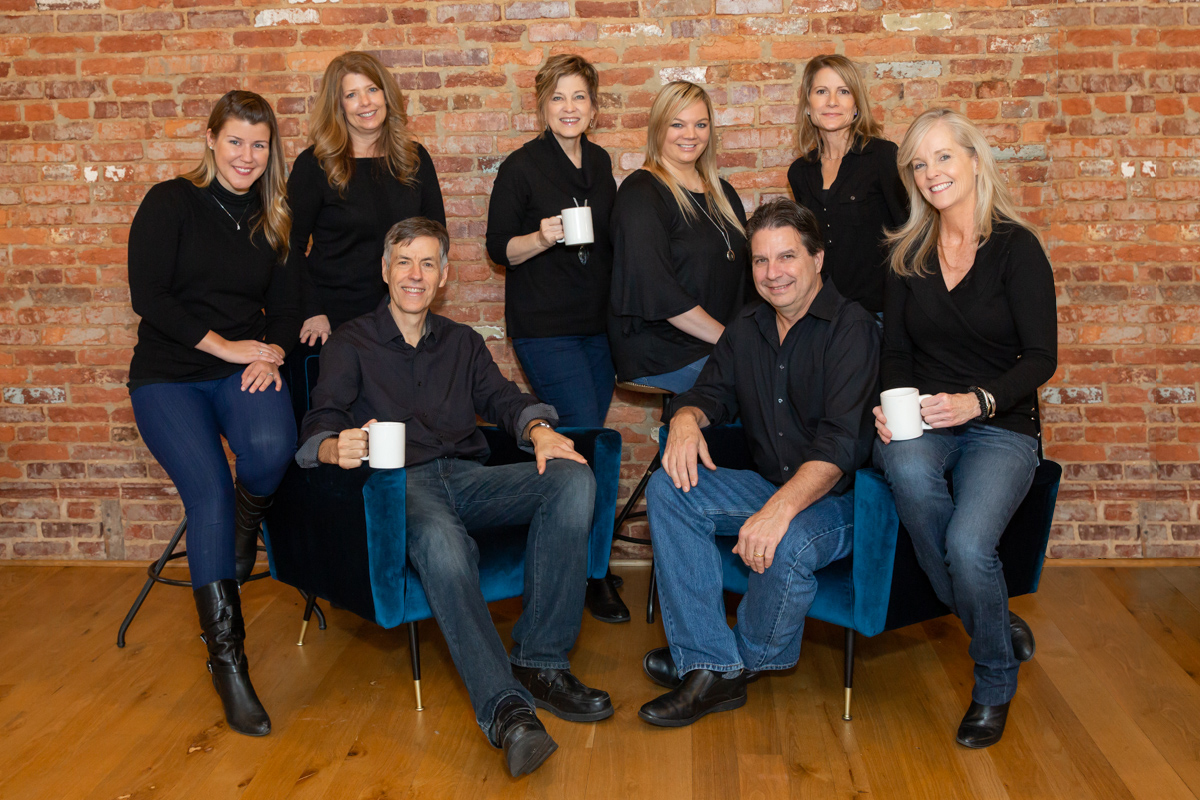 A UNIQUE OPPORTUNITY

At Welcome Home Realty Group we are boutique by design. This allows us to customize our services for each client and every transaction. Our full-service brokerage offers everything from in-house marketing to transaction and client management tools. We hold ourselves to the highest standards and empower our agents and their clients from start to finish.


As a brokerage, we focus on collaboration instead of competition in the workplace. Our agents excel by sharing their knowledge and areas of expertise with each other, helping to further the entire brokerage. In addition, our broker is dedicated to the continued training and education of our entire company, keeping everyone informed of new real estate laws and regulations.


Lastly, we don't consider our work to be work. We truly enjoy our roles as real estate experts and our entire brokerage is like family. We attend fundraisers together, give back to our community, and our client appreciation events are great fun for clients and agents alike. Join our family and Welcome Home!

Testimonials
" Terry and her team are top notch. Super good at everything they do, and continuously going above and beyond to help every step of the way. "
- Mitchell
" We can't say enough good about Welcome Home Realty! Kat Royer and Terry Lascola came highly recommended and they did not disappoint! Terry sold our house in a short period of time and for an amount we were very happy with. We had a ton of confidence in her. She was very professional but also very warm and genuine. We gave Kat Royer a run for her money. It took months to find our perfect home. There were so many hiccups that she had to navigate through due to foreclosures, banks etc... but she handled them all like a champ! She was very knowledgeable and upbeat and more than willing to help us find exactly what we were looking for. We definitely found our dream home and we have her to thank for helping us through a very challenging time. Thanks Kat and Terry, we are so grateful. "
- Jill and Rob
" Terry was an extremely knowledgeable and helpful advocate during this process! We began looking for a new home just before the pandemic, and were putting our townhome on the market as things got really serious here in Maryland. We were very nervous that things may not go as planned, and Terry always did her best to provide us with all the key information and keep things moving to get ahead of any potential issues. She knows the process and area inside and out. She helped us from step 1 with preparing our home all the way through closing. Terry was always available for questions, and was honest with us when it was an area she was not familiar with (re: pandemic impacts). She worked diligently to do research and get us the right information so we could make decisions and move forward. Terry made this a seamless process in uncertain times and we truly appreciated all of her support. "
- Alex
" I was very pleased with the Welcome Home Realty group in Frederick particularly my agent Jennifer Burns. Jennifer exceeded my expectations as our realtor, she constantly communicated and provided updates to me during the sell of my home. Even though the house went on sale during the winter months she was able to move it relatively quick and find us a buyer. Her level of dedication was unsurpassed. I highly recommend Jennifer to anyone that will like their house sold quickly and professionally. She provided the best advice and we were able to sell the house. Thank you Jennifer you are the best!!! "
- Efrain
" Kat Royer is an incredible realtor, the best I have ever worked with. She is friendly, professional, and really knows the real estate market. Further, she is always on top of things, keeping everything on schedule; she seems to always be working and makes her customers feel like they are very important. Her advice during the buying and selling process is invaluable. She will tell you what she thinks and the why behind it; which I really appreciate. She has worked with us on both buying and selling a townhouse in the Frederick area. I was especially impressed with her staging help and photography of our home when we put it on the market to sell. No doubt this hard work paid off as we were flooded with interest and had an offer very quickly. We are trying to convince her to relocate to Florida so we can use her again in the future. After working with her it is very hard to work with other realtors. Once you work with someone as top-notch as Kat, it is very hard to work with the rest. "
- Amy and Arthur
" Terry was selected as our agent due to her knowledge of the local market, marketing approach and feel for the details of our home that could be featured and/or enhanced to strengthen the marketability of the property. "
- Charlie
" We certainly did not plan to buy a house and move across the country during an epidemic. Thankfully, we had the wonderful Laura Kate to guide us through the process. Laura was with us every step of the way, always professional, attentive and helpful. Welcome Home Realty made our move as easy as could be expected during this difficult time. We are already loving Frederick and our new home. We would highly recommend Welcome Home and can not say enough about how wonderful Laura Kate has been! "
- Carol
" Terry and her team are excellent. They had the experience necessary to anticipate and prepare for problems and issues with selling my home. They knew what was needed to get the best sales price and kept things running smoothly all the way up to closing. So glad to have Terry to get thru selling my home during the Covid-19 pandemic. "
- David
" Jennifer - We couldn't have done it without you! You made everything so seamless and smooth. Our lives are all over the place with scheduling and we like to overthink just about everything. You gave us the gentle nudge and guidance we needed to feel confident in our decision. Sincerely, thank you so much for all your help! You are amazing! "
- Allie and Vanessa
" We recommend Terry for everything house related. We've worked with her for both selling and buying homes over the course of three years! Very professional, knowledgeable and hardworking. You can't find people like her and her team easily! "
- Tore
" Kat, words can never convey just how much we appreciate you, Terry La Scola, and the entire Team at Welcome Home Realty Group. The level of professionalism, expertise, and attention to detail puts everyone at Welcome Home Realty in an entirely different class. To each of you, thank you so much for your hard work and dedication. It made this transition for us feel effortless. Whenever we needed you, you were right there every step of the way. We are forever grateful, and we look forward to working with you and everyone again in the future. If anyone is looking to buy or sell a home, I highly recommend Kat Royer at Welcome Home Realty Group. They will, by far, vastly exceed your expectations. "
- Erica and Joshua
" I definitely had a good, recommendable experience with Laura Kate at Welcome Home Realty. I know the house I bought ended up being mine because of Laura Kate's connections. I would never have seen the house online in my own research, it was available only for a day or two before I bought it. I also appreciated the recommendations for mortgage broker (Mark) and title closing. The whole team of people worked well together and everything turned out fine. I started the process only half certain a house would work out, and then very suddenly the perfect house appeared and everything after that was smooth. Thank you for a good house. "
- Cari
" Terry is an outstanding realtor who shares her knowledge and expertise in real estate with her clients. With her precise guidance and assistance, our home was highly marketable and ready to sell! We sold our home in the first week, and above our asking price. We highly recommend Terry Lascola and her team if you desire to work with the VERY BEST professionals in the Frederick area!!! "
- Lisa and Les
" Kat always seemed to know what to do. She had good advice on creating an offer for the house and was a confident and effective in negotiating some needed changes after the offer was accepted. She was also very on top of communication and helping me understand the process of home buying, as it was my first time. I'd recommend her expertise to anyone. "
- Josh
" We were fortunate enough to come across Kat Royer through our research for the best possible realtor to help us navigate an out-of-state purchase in a town we'd never visited. We were relocating for work, and had a tight timetable to work with (during COVID no less), and every online search variation we tried kept pointing us to Welcome Home Realty. Their reviews as a Realty Group were stellar, and Kat was one of the standouts among those named best to work with. Within the hour we were working with Kat, and could not be happier with our decision. Kat was very thoughtful and detail-oriented, and meeting with her was as easy as talking to a friend about upcoming house plans. She took our must-haves list to heart and, during a pandemic no less, was able to find us our dream home the first day we went house-hunting together. Something that checked all our boxes was coming soon onto the market, and Kat was able to act quickly to schedule us as the first showing-the rest is history. We were simultaneously listing our move-out home in a different state, so were very limited on our availability, especially give that this was the middle of COVID lockdown. Kat was able to negotiate in our favor every step of the way, going above and beyond to organize every milestone so we could focus on packing. She made excellent suggestions on the best vendors for every part of the process, scheduled everything on our behalf, and gave us the smoothest settlement possible in a very volatile market. She is clearly selective in the teams she associates with, as all the folks she recommended extended us every courtesy throughout the process. I can honestly say that my wife and I would not be in our dream house today if we had gone with anyone else-could not be more satisfied with Kat and her team! "
- Bryan and Lauren
Previous
Next